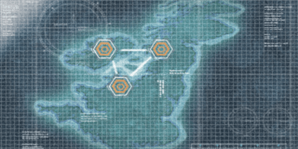 New Commonwealth
Culture
Language
Multi-lingual; predominatly English
Government
Leader
King/Queen of the UK
Government type
International Political/Economic Organization
History
Founded on
2018
Period active
2018 onward
The New Commonwealth is the new name for the United Kingdom and Ireland. The United Kingdom and Ireland declined membership from the European Union, when it transformed into the European Federation.
During the course of EndWar, the New Commonwealth was seen to have been fought over by the European Federation, Russia, and the United States of America.
It is also possible that the New Commonwealth is the evolution of the Commonwealth of Nations, which was formerly known as the British Commonwealth, which is an evolution of the British Empire. The fact that foreign powers can invade Commonwealth territory could lead to them joining the war on the side of European Federation.
However, it is also possible that the uplinks may be considered exclusion zones, and the New Commonwealth is not officially on any side of the war.
In EndWar
Edit
In the events leading up to World War III, the Commonwealth was home of the short lived US and European peace talks concerning the skirmish in Copenhagen, but when war is declared the Commonwealth, which is independent, allows EFEC troops to garrison on it's soil to defend previously constructed uplink sites, it was this reason why the Commonwealth can be invaded by foreign powers.
Member States
Edit
Confirmed Members
Edit
United Kingdom of Great Britain and Northern Ireland
Republic of Ireland
Possible members
Edit
Antigua and Barbuda
Australia
Bahamas
Bangladesh
Barbados
Belize
Botswana
Brunei
Cameroon
Canada (Note: North American Joint Security Agreement of 2014 may have led to an alliance with the US)
Cypress
Dominica
Falkland Islands (Note: This is actually one of the 14 British Oversea territories, and are almost certainly part of the New Commonwealth, along with the other 13)
Fiji
Gambia
Ghana
Grenada
Guyana
India
Jamaica
Kenya
Kiribati
Lesotho
Malawi
Malaysia
Maldives
Malta
Mauritius
Mozambique
Namibia
Nauru
New Zealand
Nigeria
Pakistan
Papua New Guinea
Rwanda
Saint Lucia
Saint Vincent and the Grenadines
Samoa
Seychelles
Sierra Leone
Singapore
Solomon Islands
South Africa
Sri Lanka
Swaziland
Tanzania
Tonga
Trinidad and Tobago
Tuvalu
Uganda
Vanuatu
Zambia
Ad blocker interference detected!
Wikia is a free-to-use site that makes money from advertising. We have a modified experience for viewers using ad blockers

Wikia is not accessible if you've made further modifications. Remove the custom ad blocker rule(s) and the page will load as expected.