Paris is the capital of the European Federation. It is the hub of all military and political authority within the Federation. The Eiffel Tower is the most prominent monument and is is seen in most posters and trailers (even in other war games).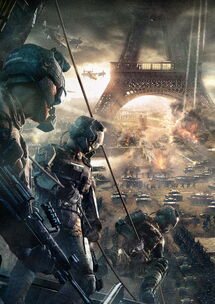 It was fought over by the United States of America, Russian Federation, and of course the Europeans in the game's novel. During the game there is an attack on Paris in the beginning of the war which is fought off by Europe. Whether any other further conflicts happen in Paris during the game is dependent on the players moves.
The CGI Trailer for the game featured an intense fight between United States and Russian military forces (the names JSF and Spetsnaz for both factions would be revealed later on). At the end of the trailer, US forces are overwhelmed and several kinetic rods are seen destroying Paris on General Smith's order. As with many locations, the fate of Paris is entirely up to the player. 
Historically this would be the third time Paris would become a battlefield. The other times being during the French Revolution and the Franco-Prussian War. It is considered by some to be a miracle that it remained unscathed during both World War I and II. 
The deployment areas are separated by the river Seine which has two crossing points. One bridge on to the west and one to the east. The middle bridge has been destroyed and is impassable. Artillery is capable of reaching every uplink on the map without crossing the river making the deployment of UAVs helicopter for scouting very useful. Paris has a variety of buildings for infantry to take cover but few are accessible, or are too damaged for infantry to garrison for long.
During the siege mission , the Center Bridge is restored and is a good route to attempt a rush for the ALFA point and win before enemy reinforcements arrive.
In direct contrast to many depictions, posters, and trailers, the Eiffel Tower is in fact just a backdrop and cannot be accessed as it is outside the boundaries of the map.
Many popular games such as Battlefield 3 and Modern Warfare 3 portray Paris as a major site of armed conflict as well.
Ad blocker interference detected!
Wikia is a free-to-use site that makes money from advertising. We have a modified experience for viewers using ad blockers

Wikia is not accessible if you've made further modifications. Remove the custom ad blocker rule(s) and the page will load as expected.