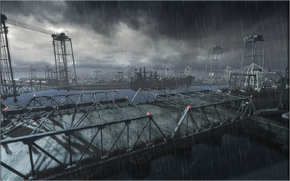 Sevastopol (Ancient Greek: "venerable city") (originally called and then briefly named Akhitar) is a city and a naval base (which supports ground troop deployment) in Southern Crimea, the southernmost division of Ukraine and now under Russian control.
Control of Sevastopol allows use of Air Support abilities in nearby territories. Raiding this territory will disable the controlling faction's ability to use Air Support in nearby territories for two turns.
Founded in 1783, the city has remained the headquarters and principal base of operations for the Black Sea Fleet, whether it was a part of Russian Imperial, Soviet or Russian Navy, and the entirety of the Ukrainian Navy.
Ad blocker interference detected!
Wikia is a free-to-use site that makes money from advertising. We have a modified experience for viewers using ad blockers

Wikia is not accessible if you've made further modifications. Remove the custom ad blocker rule(s) and the page will load as expected.